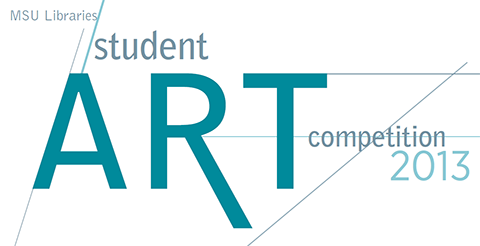 MSU Libraries Student Art Competition
The MSU Libraries would like to add YOUR art work to our building! Two winning entries (one by an undergraduate and the other by a graduate student) will be placed on display within the Main Library
¹
. Both artists whose pieces are selected will receive a $500 cash prize! The competition is generously supported by the Irene B. Arens Endowment in Support of Student Arts in the MSU Libraries. For more information, contact
Terrie Wilson
, Art Librarian and Head, Fine Arts Library.
Contest Rules and Information
Eligibility
The contest is open to any currently enrolled MSU undergraduate or graduate student.
Submission of Entries
All entries must be submitted via
email
. A maximum of 3 entries per person is allowed, and each must be submitted separately. Each submission must include:
Entrant's name
Email address
Telephone number
Title of the piece
Dimensions and materials used
Attached image file of the piece being submitted²
Duration of Contest
All entries must be received by 5pm on Friday, March 1, 2013. The winner will be notified on or after March 8, 2013.
Guidelines
Any media will be considered, excluding digital media which requires additional materials to view the work (for example, work that requires a separate television or projector). The maximum dimensions of the piece are as follows:
Wall piece – 2 x 3 feet minimum and a 5 x 6 feet maximum
Floor piece – 2 x 3 x 1 feet minimum and a 6 x 6 x 6 maximum
The winning object must be gallery ready - framed if a 2D object, and 3D objects that are not intended to sit on the floor must come with a sturdy pedestal.
Art work should be practical for a public space that is open 24/7. Please avoid submitting items that are too fragile, sharp, or small to be safe in such an environment.
¹The MSU Libraries will assume permanent ownership of the winning art work. The art work will remain on display as determined by the Libraries' administration. The winning art work will be selected by a committee (TBD).
²Image entry must be JPEG digital files and must be PC and Mac compatible. Review will be by digital image only. JPEGs should be no larger than 300 dpi at approximately 4 by 6 inches, and a maximum of 8mg. All digital files must include the artist's name and title of the submission (e.g. smithpainting5.jpg). Please do not use quotations or spaces in file names.