Will Bequests
By remembering the MSU Libraries with a bequest in your will, you can support our mission beyond your years. Many people find they can make a more generous gift through a will bequest than they can comfortably during their lifetime. In addition, your bequest will qualify you for an estate tax charitable deduction.
Before you make a will bequest, we strongly advise you to contact your attorney or advisors for advice, as well as the Development Office at 517.884.6446.
Here is an example of standard language for a will bequest to the MSU Libraries:
I (we) give to Michigan State, East Lansing, Michigan, the sum of $_________ (or percent of the residue or my (our) estate or other personal property appropriately described) to be used for Michigan State University Libraries.
MSU's federal tax identification number is 38-6005984.
By making a planned gift to the MSU Libraries, you qualify for membership in the Landon Legacy Society.
If you have already included the MSU Libraries in a will bequest, please contact the Development Office at 517.884.6446, to ensure that your gift has been documented properly.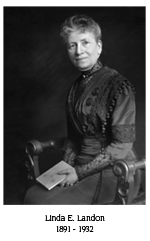 The Linda E. Landon Society, named for the beloved MSU librarian and first female instructor who worked on campus from 1891–1931, recognizes and honors individuals and families who, through their estate plans, have established a planned gift of any size benefiting Michigan State University.