Use the Copy Center
The Main Library Copy Center is located on the 2nd Floor of the West Wing and has its own hours of operation.
For questions or more information, contact the Copy Center staff by phone at 517.884.6386
Main Library Copy Center Services and Useful Information
All services except Color Copying, large format scanning, and poster lamination are Self–Serve. Staff will assist with set up and explain features of the equipment. The Copy Center has a limited amount of small office supplies, paper, and cardstock on sale. All supplies are subject to Michigan sales tax.
Printing
Useful Information and Other Services
Prices
Copying

Type
Size
Cost
Black & White Copies
Letter or Legal
$0.08; Bargain Thursdays
11x17
$0.16
Black & White Transparencies
letter
$0.50
Color Copies
Letter or Legal
$0.30; University Accounts
11x17
$0.60
Color Transparencies
letter
$0.70

Printing

Type
Size
Cost
Laser printing: Black &White –single or double sided
Letter or Legal
$0.05 per side
11x17
$0.10 per side
Laser printing: Color – single or double sided
Letter or Legal
$0.40 per side
11x17
$0.80 per side
Microform Printing
all sizes
$0.10
Microcard printing
all sizes
$0.10 per page
HP Plotter – full color
36 inch wide roll feed
$6.00 per linear foot
$7.20 per linear foot for Premium Paper
HP Plotter – 25% color
36 inch wide roll feed
$3.60 per linear foot
HP Plotter – line drawing
36 inch wide roll feed
$1.80 per linear foot

Scanning

Type
Size
Cost
Color or Black & White Scanning - Sheet-fed or Bookedge
Ltr, Legal & 11x17
$0.06 per scan
Microform Scanning
Ltr, Legal & 11x17
no charge if saved to personal USB or CD
Large Format Scanning– roll feed
42 inch width max, any length
$1.00 per scan

Lamination

Type
Size
Cost
Pouch
Wallet Size
$0.10 per card
Pouch
Letter
$1.00 per sheet
Pouch
11x17
$1.50 per sheet
Poster Size– Clear
38" wide– roll feed of any length
$6.00 per linear foot

FAX

US/Canada
Ltr, Legal & 11x17
$1.00 for first page
$0.25 for each additional page
International
Ltr, Legal & 11x17
$2.00 for first page
$1.00 for each additional page
Special Pricing
Bargain Thursdays - Black and white copies are half price every Thursday!
University Accounts - only pay $0.20 per color copy.
Payment Methods
Payment is made to the Copy Center cashier at the time of service.
Cash – Bills up to $50 accepted
Personal Check – ID required
Visa/Mastercard/Discover
University Departmental Account – Customer must fill out an account charge form which includes the departmental account number to be charged, department's name, contact campus email address and phone number.
NOTE: The Copy Center does not accept Spartan Cash and cannot charge to student accounts..
Photocopying – Black & White
Black and White Toshiba e-studio 356
Photocopying on White or Color paper, Cardstock, and Transparencies
Image Reduction/Enlargement
Sheet fed copying with collated and stapled output
Two sided copies from facing pages in a bound book in one scan
Image combination/Image separation
Other copiers located in the Main Library and Branches
There are a number of coin operated/card operated copiers in each Branch Library and the Main Library. In the Main Library, these machines are available all hours the Library is open, including hours that the Copy Center is closed. Copies made with Cash on coin–operated machines are 10¢ each and machines accept coins, $1 and $5.
The location of Main Library coin–operated or copy card machines:
First floor near Reference Desk/Main Lobby
First Floor near Circulation Desk
Basement West Wing
3rd Floor West Wing in the Map Library
4th Floor West Wing in the Fine Arts Library
Photocopying – Color
Color Toshiba e-studio 3040c
Copy Center Staff will assist patrons who wish to make color copies. Staff will comply with Copyright Guidelines. We are not able to copy professional photos, passports, driver license or currency.
This copier has a double-sided copy option. Price is 30¢ per side.
Copy Cards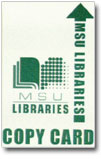 Copy Cards may be purchased in the Main Library at a dispenser near the Circulation Desk. The dispenser accepts five dollar ($5) bills only. You may get change at the Copy Center on 2 West.
The card is dispensed with a value of 50 copies. You may use this card at any coin/card operated copiers in the Main Library. You may not use it in the cashier–staffed Copy Center on 2 West. The card may be revalued at any coin box and reused indefinitely. Copies made with the copy card are 8¢ each. Copies paid with cash are 10¢ each.
Card–operated machines are available in the Business and Engineering Libraries also.
Please note: These cards can not be used in the College of Law Library.
Laser printing
Black & White
It is possible to print to the Copy Center Laser Printers from all MSU Login computers and from the Selected Resource computers.
Black and White Laser print options in the Copy Center:
Letter or legal size, single and double sided 5 cents per side
Ledger (11x17) size, single and double sided 10 cents per side
Printing Help for Black & White prints
If you choose Copy Center Laser, nothing will be printed until you request printing in person at the Copy Center which must be done within 2 hours or the print job will be deleted. There may be others ahead of you requesting printing, so please allow plenty of time before the two–hour deadline in case you have to wait.
Important Note: The default print option on all library computers is E–token. There are a number of E–token printers located throughout the Main Library. If you don't have E–tokens and click on the printer icon on the top toolbar, the print will go to the E–token printer and disappear. If you wish to print and you do not have an E–token account, you must click on "File", then "Print", and choose Copy Center.
If you choose to print to the Copy Center, you will need to identify your print job by your MSUNetID or the name and number posted on the system case of the computer from which you printed.
Exception for PDF files: To print a PDF document from a PDF reader, you must use the print icon within the PDF reader window (NOT drop–down "File" menu) and choose Copy Center.
TIP: It is best to print no more than 10 print jobs before checking with Copy Center Staff to be sure all prints are arriving successfully.
Color
There is a Color Laser printer in the Copy Center. Prints may be sent to this printer from any MSU Login computer in the Main Library. It is possible to print legal and ledger size prints on the Copy Center Color Printer.
Color Laser print options in the Copy Center:
Letter size single sided 40 cents per side
Legal single sided 40 cents per side
11x17 (Ledger) single sided 80 cents
For instructions regarding set up for color printing, from wireless, to the Main Library Copy Center Color Laser printer- visit Knowledge base article.
The other color printing option includes the HP Plotter located in the Copy Center. Plotter printing is available from all MSU Login computers in the Main Library. It is not available through wireless/ netprint.
Microformat Scanning/Printing
Learn more about the Microforms Library.
The Copy Center has Four ScanPro 2000 Microformat Reader/Printers. These machines allow for viewing and saving black and white images of Microfilm and Microfiche. One station also has the capability to scan Micro Opaque cards and save to searchable PDF. It possible to save scanned images to a USB (flash) Drive for no charge. For your convenience, USB drives are available for sale at the copy center. See the supplies list for current availability and pricing.
It is also possible to send scans to print in the Copy Center for 10¢.
HP Designjet T2300 Plotter – Located in the Main Library Copy Center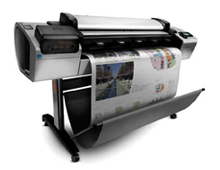 PLEASE NOTE: Due to the length of printing time, Copy Center staff are unable to release plots from the print queue within 15 minutes prior to closing time.
Prints Poster Size – 36 inch roll
Premium paper is available for the plotter and is an additional charge (see pricing grid).
Plotting is a self-service and patrons must come to the Copy Center to print their poster. Plots may be sent from any MSU Login computer in the library, but if you need printing assistance please use the computers on 2 West. Copy Center staff will assist with sending plots, but are not trained to provide technical help for poster set up in various software packages, such as Powerpoint and Adobe Photoshop.
Please read the tip sheets for information about setting up prints for the plotter. These tip sheets include specific information on using Powerpoint, Adobe Photoshop and Adobe Reader.
Simple Scan Station 3070

Color or Black and White Scanning.
High quality, fast, no log in required.
Designed to be easy to use with large friendly buttons, the Simple Scan Station's touch screen guides you through the scan process including choosing the file formats, scan quality, color, file name, and destination.
You can save your scanned item in the following formats:
Word Documents
PDF's
TIFF/JPEG
Searchable PDF
Easily send scanned items to:
USB
Print
Email
Fax
Google Docs
Faxing
You can send faxes from the Main Library Copy Center's Simple Scan Station. The fax is sent to the phone line through the internet.
Faxes within the U.S. and Canada cost $1.00 for the first page and 25 cents for each additional page.
International faxes cost $2.00 for the first page and $1.00 for each additional page.
Large Format Scanning
The HP Designjet T1200 Scanner delivers outstanding copy and scan performance. Scan, then save (to USB drive) or print (to the attached HP Plotter) with high processing speed.
Powerful scan resolution creates high-quality images with realistic colors and precise lines. It has a resolution of 508 dpi optical and 2400 ppi enhanced from three cameras.
Produce large-format color and black-and-white scans from wide or thick, rigid originals. The scanner accepts originals up to 42 inch wide and 0.6 inch thick, so it can handle oversized and heavyweight originals, even those mounted on foam board. The roll feed scanner does not limit scan length.
Saving to a USB Drive is recommended. It is possible to save to CD also.
Scans are $1 each. If scan is sent to plotter, there is an additional charge for the plot, based on our normal plot pricing. (Pricing depends on amount of color in plot.)
Comb Binding: Self Serve - Located in the Main Library Copy Center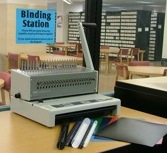 We offer a variety of cover colors, including transparent, and binding combs in various sizes as well as colors. Supply costs vary, but most items are bound for less than $2, which includes cover set and comb. Staff will be happy to show you how to use the binding machine for punching your materials and adding cover and spine.
Lamination: Self-Serve - Located in the Main Library Copy Center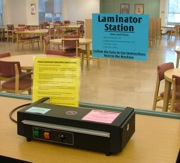 We offer self serve Pouch Lamination products. Protect and enhance your documents by laminating. Laminating pouches are available in a variety of sizes. The Copy Center stocks wallet, letter and ledger size lamination pouches. Lamination Clear pouches give a high-quality, glossy, and glass-like appearance to laminated items.
Please note: Lamination is not recommended as a long term preservation option for family heirlooms etc. and certain types of ID can become invalidated if laminated.
Lamination - Large Format
The Copy Center offers large format lamination for documents printed on the plotters. Protect and enhance your poster with lamination. We can laminate documents up to 36 inches in length on one side by any length on the other side. Poster lamination is a staff mediated service, with a 24 hour turnaround period. Large format lamination is Patrons may pay for the lamination service after completion at the time of pick up. See pricing grid for cost information.