Special Collections Hours
Sunday (March 9): Closed
Monday (March 10): 9:00am to 5:00pm
Tuesday (March 11): 9:00am to 5:00pm
Wednesday (March 12): 9:00am to 5:00pm
Thursday (March 13): 9:00am to 5:00pm
Location
Special Collections
MSU Libraries
366 W. Circle Drive
East Lansing
MI, 48824
Phone: 517.884.6471
Special Collections
Special Collections was established in 1962 to hold, preserve, build, and make accessible rare materials and special collections in the MSU Libraries. All materials must be used in the Special Collections reading room to protect and preserve them for use today and in the future.
Discover Special Collections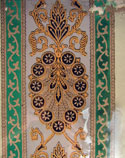 Special Collections holds the only known copy of Shadows from the Walls of Death; Facts and Inferences prefacing a Book of Specimens of Aresenical Wall Papers (Lansing, 1874) by Professor Robert C. Kedzie, a physician turned chemistry professor who for many years taught at Michigan Agricultural College. Appointed to the first State Board of Health for Michigan, Kedzie wrote of the deaths that resulted from wall paper tinted with arsenic (Paris green). The color gradually dusted off the walls, and one who lived in the house so papered might absorb enough to cause death. Kedzie cut up 80 rolls of wall paper containing the deadly arsenic-green and produced 100 copies for distribution to state libraries along with his scientific conclusions. Before long the use of arsenic to produce the greens in wall paper disappeared.
The copy in Special collections has been conserved and the wall paper specimens encapsulated to protect staff and patrons.