All individuals are required to wear masks indoors in all campus buildings, including the Libraries.
For more information on Library hours and services, please visit our Using the Library page.
Agriculture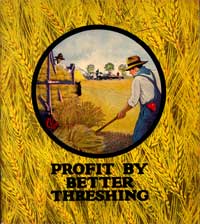 Case Steel Built Threshing Machines; Universal Favorites for Eighty Years J.I. Case Threshing Machine Company (Racine, 1922?)
As the library for the first institution of higher learning in the United States to teach scientific agriculture, Stephen O. Murray and Keelung Hong Special Collections holds important early agricultural printed works, as well as strong collections in gardening, forestry, landscape architecture, and agricultural equipment catalogs.
Online Resources