All individuals are required to wear masks indoors in all campus buildings, including the Libraries.
For more information on Library hours and services, please visit our Using the Library page.
Manuscripts & Archives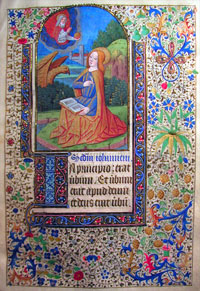 Horae Beatae Mariae Virginis (Paris, 148-?)
The manuscript and archival collections in Stephen O. Murray and Keelung Hong Special Collections are here primarily in support of the printed collections. As a result, there are significant holdings of manuscript cookbooks, the literary papers of selected Michigan writers, early veterinary manuscripts, Africana materials, and the archives of progressive and radical political groups. There is also a growing archive documenting the history and culture of midwestern Latinos.
Online Resources