Some areas of the Main Library are now open 9am-5pm, Monday-Friday and 12pm to 5pm on Saturday and Sunday. These areas include main-floor access to Circulation as well as our study and computing space on 1 East with access to MSU printing. As of Feb. 1st, we opened 1 West. Our total capacity at this time is 120 people. We also now have touchless lockers, where you may pick up materials. Outside of safety, our top priority is to provide access to all of our collections. We continue to offer virtual services. We also are paging materials and will continue to mail materials to faculty, staff, and students living off-campus. We encourage you to use our convenient distance services. Please see our Online and Distance Learning resource page for more information.
Charles and Ruth Schmitter Fencing Collection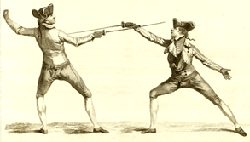 L'ecole des armes avec l'explication générale des principales attitudes et positions concernant l'escrime....
Domenico Angelo
(Londres, 1763)
Return to Fencing Collection Home Page »
The highlights of the collection include works of two of the great 16th century Italian fencing masters. Achille Marozzo's Opera Nova, which first appeared in 1536, was the first work to attempt to fix uniform rules for the use of weapons. The Schmitter collection includes the much enlarged edition published in Venice in 1568 with the title Arte dell'Armi. Marozzo is considered to have been both the first writer of merit on the subject and, in his practice, the last master of the "cutting and slashing" style of fencing.
His contemporary Camillo Agrippa, better known to us as a mathematician and engineer, emphasized the use of the point, rather than the edge of the blade. The 1568 Venice edition of Agrippa's Trattato di Scienza d'Arme comes to the Library with the collection.
Notable English works in the collection are two titles by the "Scots Fencing Master" Sir William Hope, whose treatises The Compleat Fencing Master (London, 1692) and A New, Short, and Easy Method of Fencing (Edinburgh, 1707) were among the most celebrated English fencing works in the late seventeenth and early eighteenth centuries.
The jewel of the collection, and of all fencing books, is the great L'Ecole des Armes of Domenico Angelo, an Italian who studied fencing in Paris, came to England in the company of the celebrated beauty, actress Peg Woffington, and stayed to establish a dynasty of fencing masters. Angelo's School of Arms in London trained generations of wealthy English youth in fencing and horsemanship. L'Ecole des Armes was published in London in 1763 as a large and lavishly illustrated folio. So superior was it to other works available at the time that the great Encyclopedie of Diderot and D'Alembert, completed in 1765, used it unaltered to provide both the text and plates on fencing. Angelo himself posed as one of the combatants in the plates; his friend and patron Henry Herbert, the Earl of Pembroke, often posed as his opponent.
Besides these rarities the collection is noted for its many modern books on the subject of fencing and dueling. Manuals and guides in different languages, Olympic games yearbooks, fencing texts, dictionaries, and histories are abundantly represented. Together they serve researchers who, for example, may wish to document the changes in fencing technique over time, or study the impact of dueling in different societies and cultures. There is also a large collection of popular fiction featuring dueling and swords, which is fitting since Professor Schmitter first became interested in fencing after he read the popular Puss in Boots story as a child.
A special collection like this is often the work of a special individual, and so it is with the Charles and Ruth Schmitter Fencing Collection. A native of Detroit, Charles Schmitter began fencing while a student at the University of Detroit. He helped organize the school's first fencing team and began coaching the Detroit team in 1929. It was during these years that he began to collect fencing books. In 1938 he began his long association with MSU, becoming the school's full-time fencing coach in 1940. He was named "Fencing Coach of the Year" by the National Fencing Coaches Association in 1957. He has served on the fencing committee for the Olympic games several times and in 1956 won the prestigious Italian Masters Diploma in fencing. He was the first native born American to achieve this honor.
The Charles and Ruth Schmitter Fencing Collection Endowment Fund has been established thanks to the generosity of the Schmitters. The fund will make possible future acquisitions of rare and important fencing books, as well as help preserve and promote this outstanding collection. If you would like to contribute to this fund, please contact the Library Development Office or the Head of Stephen O. Murray and Keelung Hong Special Collections in the Libraries.