Veterinary Medicine Historical Collection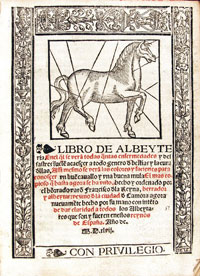 Libro de Albeytería
Francisco de la Reyna
(1547)
The Veterinary Medicine Historical Collection at MSU is one of the largest and finest collections of its kind in the nation and possibly the world. The collection features some 1,400 manuscripts and books covering the arts and practices of the veterinary profession from as early as the fifteenth century.
Today, MSU's Veterinary Medicine Historical Collection continues to grow in size and prestige. Recently an extremely rare sixteenth-century Latin translation of the Greek manuscript Kynosophion, the first work on the care of dogs, was acquired.
Online Resources
Catalogue of Rare Veterinary Books and Allied Subjects in Animal Husbandry - A catalog of some of the more unique items in our Veterinary Medicine Collection.
"Proportions Geometrales du Cheval," illustration from Claude Bourgelat, Élémens d'Hippiatrique, ou, Nouveaux principes sur la connoissance et sur la médicine des chevaux . A Lyon: Chez Henri Declaustre … les Frères Duplain…, 1750-1753. Tome 1, [pg. 476].
In 1761, in Lyon, France, Bourgelat founded the world's first school of veterinary medicine.