We are excited to announce that we have moved to a new catalog. The old catalog will no longer be available beginning October 1st.
Please report any problems you may experience to Discovery Services by calling (517) 353-8700 or by filling out our feedback form.
Note: Borrowing from other Michigan libraries through MeLCat continues to be suspended until further notice.
To learn more information, please see our FAQ page and our policy on Personal Data Collection and Usage for Library Accounts.
Biography of William C. Gast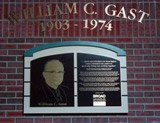 Following is the text of the plaque at the entrance to the Library:
William C. Gast was a compassionate businessman who believed in bringing the high ideals he lived by to the family-run business he managed for more than 40 years. A leader in the southwestern Michigan business community, Mr. Gast led his company to prosperity by following the simple tenets of life's most basic rule - treat others as you might hope to be treated.
Mr. Gast was a student at Michigan State University when, in 1925, his father called him home to help oversee the family's growing manufacturing business. Mr. Gast would eventually see the company through 40 years of challenge and growth. Gast Manufacturing is now recognized as a world leader in the manufacture of air-moving equipment.
William Gast's personal and business philosophies were built on a single common denominator of respect. Until his death in 1974, Mr. Gast was well known as a man who treated his employees, customers, suppliers, associates, and competitors as his equals.
The William C. Gast Business Library is provided through the generosity of Mr. Gast's daughter, Marcella Gast Schalon, and son, Warren E. Gast. This facility is dedicated to Mr. Gast and his belief that real business success can be found only through the sharing of goals and information.
September 25, 1997
Broad College of Business
Michigan State University