The Gast Business Library will continue to offer access to its collections and services virtually during the Spring 2021 semester. We look forward to serving your business research and teaching needs via email, Zoom and phone. Circulating items may be paged or delivered to your home or office using the library catalog's Get It! Button. Please see our website for links to online resources and to the Ask a Business Librarian form. The Main Library is open with reduced hours and occupancy restrictions. Please refer to the Online and Distance Learning resource page for more information.
Location & Maps
Gast Business Library
Michigan State University
Law College Building
648 N. Shaw Lane, Room 50
East Lansing, MI 48824-1300
Please note: the Gast Business Library is located in the basement of the Law College Building.
Visitor Parking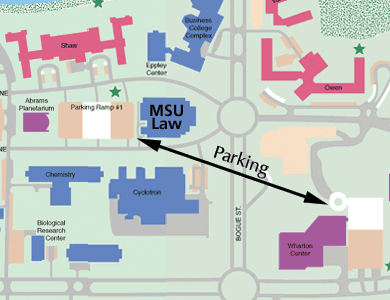 The parking ramp, which is located directly to the west of the Law College Building, has visitor parking on the lower level.
There are entrances to the ramp from both the east- and west-bound lanes of Shaw Lane.