We are excited to announce that we are moving to a new catalog from June 27th through the 30th. As we make this transition, some services will be affected.
You will still be able to check out books or other library material in person at the library.

Requests for pick up at circulation desks will be unavailable during this time.

You will have to request materials from other libraries using Get It @ MSU. Note: Borrowing from other Michigan Libraries through MelCat continues to be suspended until further notice.
To learn more information, please see our FAQ page.
Location & Maps
Gast Business Library
Michigan State University
Law College Building
648 N. Shaw Lane, Room 50
East Lansing, MI 48824-1300
Please note: the Gast Business Library is located in the basement of the Law College Building.
Visitor Parking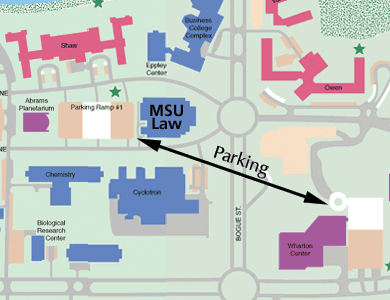 The parking ramp, which is located directly to the west of the Law College Building, has visitor parking on the lower level.
There are entrances to the ramp from both the east- and west-bound lanes of Shaw Lane.