Some areas of the Main Library are now open 9am-5pm, Monday-Friday and 12pm to 5pm on Saturday and Sunday. These areas include main-floor access to Circulation as well as our study and computing space on 1 East with access to MSU printing. Capacity for the study space is 50 people. We also now have touchless lockers, where you may pick up materials. Outside of safety, our top priority is to provide access to all of our collections. We continue to offer virtual services. We also are paging materials and will continue to mail materials to faculty, staff, and students living off-campus. We encourage you to use our convenient distance services. Please see our Online and Distance Learning resource page for more information.
Welcome
to the Digital and Multimedia Center

!

The Gerald M Kline Digital and Multimedia Center, including the Vincent Voice Library, offers both online and traditional media collections, designed to meet research needs across many different disciplines and subject areas. The DMC also serves both the MSU community and the worldwide academic community through digitization projects that preserve scholarly resources.
Digital and Multimedia Center Hours
| | |
| --- | --- |
| Today (Mon.) | Closed |
| Jan. 26th (Tue.) | Closed |
| Jan. 27th (Wed.) | Closed |
| Jan. 28th (Thu.) | Closed |
| Jan. 29th (Fri.) | Closed |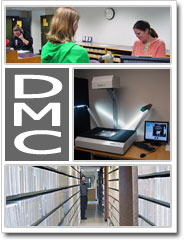 Gerald M Kline Digital and Multimedia Center
Main Library Building
Michigan State University
366 W. Circle Drive
East Lansing, MI 48824
Phone: (517) 884-6470