Some areas of the Main Library are now open 9am-5pm, Monday-Friday. These areas include main-floor access to Patron Services as well as our study and computing space on 1 East with access to MSU printing. Capacity for the study space is 50 people. We also now have touchless lockers, where you may pick up materials. Outside of safety, our top priority is to provide access to all of our collections. We continue to offer virtual services. We also are paging materials and will continue to mail materials to faculty, staff, and students living off-campus. We encourage you to use our convenient distance services. Please see our Online and Distance Learning resource page for more information.
Digital Collections: Fencing

Title:
A treatise upon the useful science of defence : connecting the small and back-sword, and shewing the affinity between them : likewise endeavouring to weed the art of those superfluous, unmeaning practices which over-run it ... : with some observations upo
Publisher:
London: printed for the author by T. Gardner, 1747.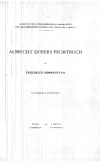 Title:
Albrecht Dürers Fechtbuch / von Friedrich Dörnhöffer
Publisher:
Wien: F. Tempsky ; Leipzig : G. Freytag, 1910.

Title:
The art of fencing : or, the use of the small sword / translated from the French of the late celebrated Monsieur L'Abbat
Publisher:
Dublin : printed by James Hoey, 1734.