Poet and Essayist Alison Swan
September 27, 2002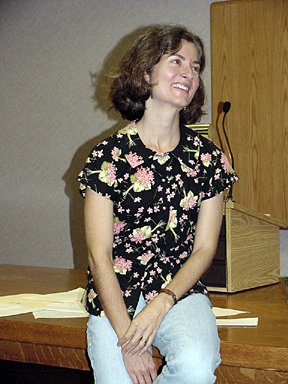 Audio:
Alison Swan's poems have appeared in many publications, including The Bellingham Review, the Red Cedar Review, and the Detroit MetroTimes. Her poem "Porch Swing," published as a limited edition hand-made book, is included in rare book collections throughout the country, including the New York Public Library, the University of Michigan, and Michigan State University.
Swan's creative nonfiction, "Tracing the Winter Dunes," set in the Lake Michigan sand dunes in deep winter, was included in MSU Press's 2000 anthology, Peninsula: Essays and Memoirs from Michigan. The year before, a longer version of that essay was a finalist for a Heekin Prize. Swan has another essay about Michigan's wild places forthcoming in an anthology celebrating the State of Michigan's legally designated Natural Areas (MSU Press/Michigan Department of Natural Resources). Last year, her essay about the demolition necessary for the construction of Detroit's new Tiger Stadium was published in The Dunes Review.
In 1991, Swan received her MFA in creative writing from the University of Michigan, and in 1984 she graduated from MSU with a B.A. in English Literature. She taught literature and writing at both the secondary and higher levels for more than six years. Swan has written a book column for Ann Arbor's Current magazine since 1996, and her book reviews have appeared in Fourth Genre and the Paper. From 1993 to 1997, she managed publicity and advertising at Shaman Drum Bookshop in Ann Arbor.
Presently, Swan is editing an anthology of women's creative nonfiction about the Great Lakes and writing a collection of essays about Michigan's Upper Peninsula. She also co-owns a bookstore in Saugatuck called Blue Rhino Books and Other Necessities and co-chairs Concerned Citizens for Saugatuck Dunes State Park, an organization dedicated to the preservation and expansion of Lower Michigan's only rustic freshwater sand dunes state park.
Alison Swan's family has lived in Michigan, both Upper and Lower, since the mid-19th century. She has settled with her husband and their daughter in the small town of Saugatuck on Lake Michigan after living in Fort Lauderdale, Seattle, Boston, and Ann Arbor. She grew up in Metro Detroit.