Science Fiction Writer Patrick O'Leary
October 3, 2003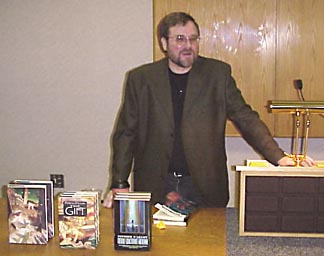 Audio:
O'Leary, a native of Saginaw, holds a B.A. in Journalism from Wayne State University. His poetry has appeared in literary magazines across North America and in Other Voices, Other Doors, a volume of collected works that span 20 years of his writing. His novels include, The Impossible Bird, Door Number Three, and The Gift. Currently, he is an Associate Creative Director at an advertising agency where his work has won numerous industry awards.
"As a posthumous fantasy, then, THE IMPOSSIBLE BIRD is a pure success... Philip K. Dick texture...cool de Chirico surreality...some of the estranged crystalline ring of Jonathan Carroll or Jonathan Lethem or Robert Charles Wilson... In the end THE IMPOSSIBLE BIRD does molt out of its sf trappings and (lifts) our hearts." - John Clute, The New York Review of Science Fiction
For more information, please visit Patrick O'Leary's website at: http://web.mac.com/paddybon/.