Poet and Novelist F. Richard Thomas
February 11, 2000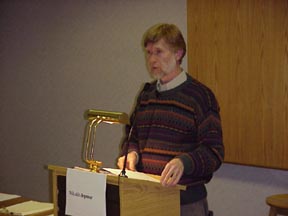 Audio:
F. Richard Thomas was born in Evansville, Indiana in 1940. He attended Purdue University, University of Minnesota, and Indiana University. Currently, he is Professor of American Thought & Language at Michigan State University (since 1971) and editor/publisher of Years Press and Centering Magazine.
His publications include six chapbooks of poems; a full-length book of poetry, Frog Praises Night: Poems with Commentary (Southern Illinois University Press); a novel, Prism: The Journal of John Fish (Canoe Press); and a book on the relationship of poetry to photography, Literary Admirers of Alfred Stieglitz. He is also editor of Americans in Denmark: Comparisons of the Two Cultures by Writers, Artists, and Teachers, and The Landlocked Heart: Poems from Indiana (Indiana Writes/Indiana University). He has published in many magazines, including Articulate Magazine, Images, Poet Lore, English Journal, Beloit Poetry Journal, The Bridge, and others.
A selection of his poetry will appear in the anthology New Poems from the Third Coast, which will be published by Wayne State University in spring 2000. He has received a Michigan Council for the Arts award, a MacDowell Artist Colony fellowship, and two Fulbright Awards to teach in Denmark. He recently received a Michigan State University grant for a leave to work on an experimental novel in spring 2000. A new full-length book of his poetry, Death at Camp Pahoka, will be published by Michigan State University Press in fall 2000.
He lives with his wife, Sharon, in Haslett, Michigan, and spends part of every year in Las Cruces, New Mexico, where his son and daughter own and manage the Red Mountain Cafe.
"The power of an individual poet's work depends upon intensity of vision. With the subjects he has chosen to write about in Death at Camp Pahoka-science, spirituality/religion, sexuality, family, and community-F. Richard Thomas is clearly obsessed. Focusing on the richness of language and content, his poems are at once accessible, yet profound. Additionally, all of the poems, while grounded in the "real" and the "physical," have a metaphysical twist to them. At their best, they cannot be read without the reader being momentarily lifted up and out of the physical world into wonder. This collection is one that reveals the beauty, joy, and pain of daily life, a fascinating life rich in uncertainty and chaos, a life that presents an unlimited number of situations on which the metaphysical light of poetry can be cast. Whether it's food, family, or travel, Dick Thomas has a different slant on the subject. His is a voice laced with love and anger, frustration and humor, the voice of a man simply trying to get home no matter where he happens to be." -Roger Pfingston, author of Something Iridescent