Science Fiction Writer Anne Harris
February 14, 2003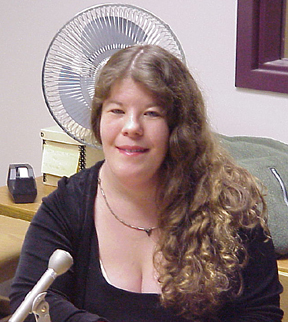 Audio:
Anne Harris is the author of the novels The Nature of Smoke and Accidental Creatures. Her latest, the forthcoming Inventing Memory, is a feminist romance that tackles the question, "Can women and men find happiness and liberation together?" and goes all the way to ancient Sumeria and back to find the answer.
Harris has been a long-term advocate of women's rights, reproductive freedom and GLBT rights. Accidental Creatures, won the first-ever Spectrum Award for best novel dealing with GLBT characters, themes and issues. The Nature of Smoke achieved distinction with a starred review in Publisher's Weekly and a listing in Locus Magazine's recommended reading list. Common themes in her work are chaos theory, biotechnology, personal freedom and transformation.
Harris has lived in the metro Detroit area all her life, and her first two books are set in near-future Detroit industrial dystopias. She has, at various times, worked as an operations research analyst for the Department of Defense, a vegetarian cook, a dry-cleaner, a book store clerk, a small-town reporter and a PR writer. She has a degree in computer and information science from Oakland University. Anne Harris lives in Royal Oak with her husband Steve, their dog, Rodney, and cats, Hector and Mavis.