‹ What is Conservation?

Goals of Conservation ›
Conservation vs. Preservation
The two terms are often used interchangeably, but have different meanings in the library and rare book world. Preservation is the broader term and encompasses the activities of conservation. Preservation is concerned with the collection as a whole, including environmental conditions, disaster and emergency planning and overall administration. Conservation, on the other hand, is much more focused on the individual volumes within the collection. A conservator will repair, or treat, a single book, often devoting many hours to the various steps involved in its treatment.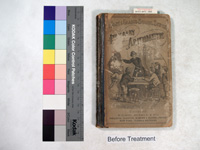 White, Emerson E. (Emerson Elbridge), 1829-1902
A primary arithmetic : uniting oral and written exercises in a natural system of instruction
Cincinnati : Wilson, Hinkle & Co., c1868
Description: 144 p. : ill. ; 17 cm.
‹ What is Conservation?

Goals of Conservation ›