‹ Deacidification and Acidic Paper

Rehousing ›
Full Treatments
Full treatments are a combination of all of the other treatments. Books needing a full treatment will generally be disbound; the sewing will be removed; the pages surface cleaned and washed; any torn pages or signatures will be mended; the book will be resewn; and then it will be rebound using the original cover or a new cover will be made. This is a time consuming process and can take many days from start to finish when drying time is taken into account.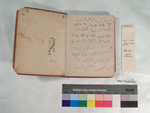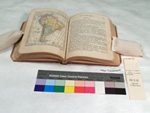 Mitchell, S. Augustus (Samuel Augustus), 1792-1868
Mitchell's primary geography : an easy introduction to the study of geography
Philadelphia : Cowperthwait, Desilver, & Butler, 1854
3rd rev. ed.
Description: 176 p. : ill., maps (some col.) ; 17 cm.



Murray, Lindley, 1745-1826
The English reader : or, pieces in prose and poetry, selected from the best writers
Cooperstown : Printed and sold by H. and E. Phinney, 1837
Description: 252 p. ; 15 cm.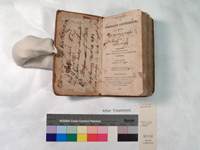 Willetts, Jacob, 1785-1860
The scholar's arithmetic : designed for the use of schools in the United States
Poughkeepsie, N.Y. : P. Potter, 1822
4th ed.
Description: 191 p. ; 18 cm.
‹ Deacidification and Acidic Paper

Rehousing ›