‹ Triage

Paper Repair ›
Minor Repairs (Corners, Hinges and Caps)
Minor repairs are fairly simple repairs to mend abraded covers (especially the corners), damaged caps and loose hinges. While treating corners and caps can seem cosmetic, minor damage like this can cause further damage in the future since the book is no longer being protected by its cover. Loose hinges, if not tightened, can eventually cause the boards (i.e. covers) to fall off. These repairs generally take less than 15 minutes to perform and us a minimal amount of materials and tools.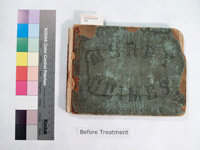 Merry chimes : a collection of songs, duets, trios, and sacred pieces… by L.O. Emerson.
Chicago : Lyon & Healy, 1865
M1994.E53 M47 1865
Description: 1 score (224 p.) ; 14 x 19 cm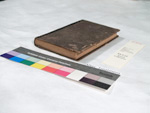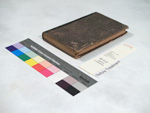 Phelps, Lincoln, Mrs., 1793-1884
Botany for beginners: an introduction to Mrs. Lincoln's Lectures on botany
New York, Huntington & Savage, 1848.
QK47 .P527 1848
Description: 216 p. illus. 17 cm.



Gallaudet, T. H. (Thomas Hopkins), 1787-1851
The school and family dictionary and illustrative definer
New York : Robinson, Pratt, 1842.
PE1628 .G3 1842
Description: viii, 221 p. ; 16 cm.
‹ Triage

Paper Repair ›