‹ Minor Repairs

Rebacks ›
Paper Repair
Torn pages are very common in well-used books such as these textbooks and Sunday school books. If a small tear is left unmended, it can easily become a larger tear or even a loss (when a piece of the page goes missing). Paper repair for special collections materials is done with very thin Japanese paper and wheat starch paste. Paste is the preferred adhesive because it is water soluble. If the repair should ever have to be undone, it can easily be removed in water. When completed, the repair should be almost invisible.
Knowles, James D. (James Davis), 1798-1838
Life of Mrs. Ann H. Judson, late missionary to Burmah ; with an account of the American Baptist mission to that empire.
Philadelphia, American Sunday School Union, 1830
BV3271.J81 K6
Description: 266 p., front. (port.) plates 15 cm.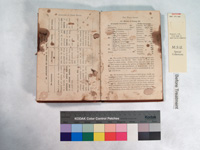 Prescott, A. B. (Albert Benjamin), 1832-1905
First book in qualitative chemistry
New York : D. Van Nostrand, 1892.
Edition 7th ed., rev.
QD83 .P74 1892
Description: 162, p. ; 19 cm.



White, Emerson E. (Emerson Elbridge), 1829-1902
A new complete arithmetic : uniting oral and written exercises
New York : American Book Co., c1883.
QA103 .W63 1883b
Description: 362 p. : ill. ; 19 cm.
‹ Minor Repairs

Rebacks ›