MSU Libraries welcome contributions of Gifts In-Kind in a variety of forms. These may include single books, periodical collections, volume sets or other materials. If you are interested in making a Gift In-Kind and would like more information, please call Seth Martin at (517) 884-6446 or email the development offices at giving@lib.msu.edu to discuss details about your intended gift.
Criteria for Acceptance of Gifts In-Kind include:
Condition of materials
Compatibility with the Libraries' collection development goals and strategies, and
The amount of available Library space to appropriately house and preserve your donated materials
Credit for Gifts In-Kind:
Gifts In-Kind valued at less than $5,000 require only one form which the Development staff will happily assist in completing. Those valued greater than $5,000 will additionally require an appraisal at the donors' expense as dictated by federal law. Donors seeking Federal tax credit consideration are referred to IRS Publication 561, "Determining the Value of a Donated Property" and IRS Publication 526, "Charitable Contributions". Donors making gifts for which they seek tax credit will be required to file IRS Form 8283, "Noncash Charitable Contributions", signed by an appraiser and an authorized MSU Foundation representative to accompany their IRS Form 1040. Donors are encouraged to consult their legal and financial advisors for additional information.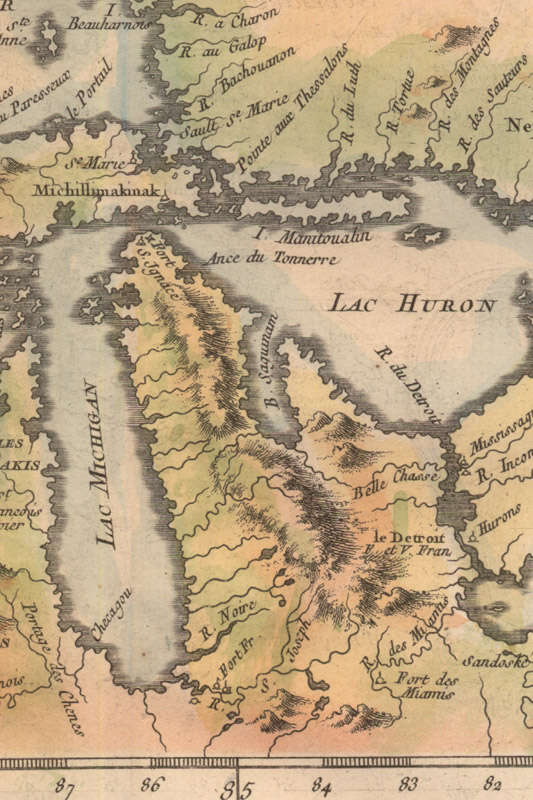 A section of the Bellin 1757 Lacs Du Canada map
that was donated by Michael DeGrow as part of the
DeGrow Map Collection.