All individuals are required to wear masks indoors in all campus buildings, including the Libraries.
For more information on Library hours and services, please visit our Using the Library page.
Starting on Thursday, December 23, 2021, MeLCat Borrowing and Lending will be suspended while the MSU Libraries undergoes a significant software transition.
MSU students, staff, and faculty can continue to utilize interlibrary loan by placing requests through the MSU Libraries Interlibrary Services department. Community patrons will not be able to use MeLCat through the MSU Libraries during this time, but they can continue to do so using their local public library.

Temple of Flora & Compleat Florist
Temple of Flora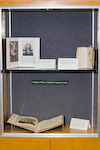 Temple of Flora, or, Garden of the botanist, poet, painter, and philosopher. Robert John Thornton, 1768?-1837. London: Dr. Thornton, 1812. Purchased in part with funds from the Dr. E. James and Geri Potchen History of Horticulture endowment.
It had long been a dream of Dr. Thornton's to produce a magnificent English botanical, one that would rival and indeed surpass anything that had been produced in any other European country. With inherited wealth, Thornton began the production of his work, sparing no expense in commissioning the best and most accomplished artists available (Peter Henderson, Philip Reinagle, Sydenham Edwards and others) to produce a work that would be lavish and extravagant in both style and execution. When Thornton's large folio plates appeared they were a hailed as triumph of artistic design and yet they proved to be financial failure, nearly bankrupting the doctor and threatening the future of his multi-volume project. Thornton produced this smaller folio edition and conducted a lottery with copies of this edition given as prizes, but was soon bankrupt and the project abandoned. Of this work, no two copies of it are alike. The plates were engraved by various processes—aquatint, mezzotint, stipple and line engravings—and the impressions taken from them were printed in colour and finished by hand. Most of the plates were altered or added to from time to time, producing a different 'state' in each case, some plates having as many as four different states.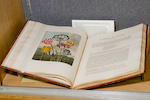 Art of botanical illustration: The classic illustrators and their achievements from 1550 to 1900. Lys de Bray. Bromley: Helm, 1989.
The greatest botanical illustrations throughout the history of the genre are presented in this fascinating and beautifully designed survey. Beginning with the ancient Egyptians, plants, flowers and herbs have been the subject of the artist's attention. Thornthon and his Temple of Flora are discussed in detail in this work. Author Lys de Bray explains why skilled botanical art is better - and of more use to posterity - than the best photographs.
---
Compleat Florist
The compleat florist. London, Printed for J. Duke, 1747.
In the 18th-century the word "florist" had a more general meaning. Samuel Johnson, in 1757, defined a florist as a "cultivater [sic] of flowers" in both a professional and amateur capacity. The compleat florist was aimed at both groups of flower growers, and was intended as an indicator of what was available, fashionable, and the "coming-thing", while also providing the necessary growing instructions. This work was first published in two parts in 1740, and re-issued in the present format in 1747. It is not only beautifully engraved and printed, but also offers an important snap-shot of the varieties that were available to gardeners during the middle of the 18th century—an important time in the history of gardening when systematic classification was taking hold, but before the explosion of plants that were bought into cultivation from the late 18th century onwards.