Africana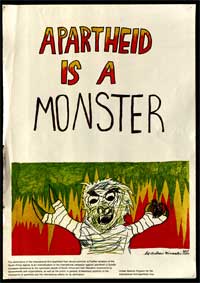 Apartheid is a Monster [Poster]
Andrew Minewski
(New York, 197_ ?)
Special Collections has rich and extensive Africana holdings that attract researchers from throughout the world. The resources include seventeenth and eighteenth century travel and exploration books, manuscript collections spanning the last several centuries, British colonial fiction, political ephemera, cookbooks, and comic art.
Special Collections is home to the African Activist Archive project that exists to preserve the record of activities of organizations and individuals who supported African struggles for freedom between 1960-1994.
The Special Collections Africana Collection has a growing collection of African cookbooks ranging from Algeria, Senegal, and Nigeria to Kenya, Uganda, and South Africa.
Online Resources