Book Arts Collection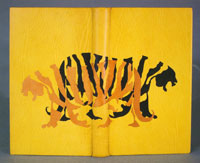 Karen Hanmer's Ficciones binding,
Bound 2006.
Jorge Luis Borges, Ficciones
The Book Arts Collection is a growing collection of books and journals, both modern and historical, that encompass all aspects of the book as a physical structure. Book design, bookbinding, book history, illustration, papermaking and decoration, typography, calligraphy, fine press printing, and offset printing are some of the topics covered in the collection. There is a collection of contemporary artist's books, as well as printed books from the 15th-20th centuries representing the works of important European and American masters printers and binders. Also in the collection are realia, a strong collection of illuminated manuscript facsimiles, and thousands of 'zines of all shapes and persuasions. The Book Arts Collection supports instruction and research for the Book Arts Program in the Residential College for Arts and Humanities, and related endeavors across campus and community. In simple terms, artists' books are books created by artists, where the artist has total control over every aspect of the creative process.
Online Resources
Save America's Treasures Online Exhibit - This exhibit was created as part of the Save America's Treasures grant awarded to Michigan State University Libraries in 2005. The goal of the exhibit is to educate the public about the fragility of our nation's cultural heritage and how libraries and library conservators are saving the books from our past. The exhibit illustrates some of the conservation treatments performed on the Teaching Young American's collection and how the library administered them.
History of Binding - The book in the codex form, or the book as we know it today, has been around for nearly 2000 years. But the books we read today look nothing like those early books bound by the Copts and early Christians. This exhibit offers examples of bindings from throughout the ages, beginning with some of the oldest books in the collection, from the 15th century. Each page shows a different era of binding and how the styles have changed through the centuries. Some mention of structure is here and there, but the focus is on the style and the materials used.
Artists' Books Collection - The MSU Libraries' Artists' Books Collection is housed in Special Collections and includes over 350 titles by a wide variety of artists including Laura Davidson, Julie Chen, and Emily Martin. The Cuban Artists' Books Collection contains nearly 200 titles, created by individuals at Ediciones Vigía, an artists' cooperative that has produced limited-edition books since 1985. Definitions for "artists' books" are as varied as the objects themselves. In simple terms, artists' books are books created by artists, where the artist has control over every aspect of the creative process. Artists' books can take any format, from a traditional codex to a tunnel book, and they offer a non-traditional yet innovative approach to the relationship between book and reader.