Zines Collection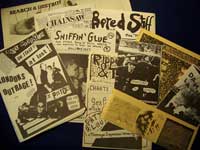 A pile of zines
Zines are self-publications, often unique, rare and having small circulations, 1,000 copies or less. "Zine" is short for magazine or fanzine. They descend from the self-published fanzines of science fiction fans of the 1930s. Today's zines also have roots in the 1960s/1970s underground press, punk rock fanzines, and the DIY (do-it-yourself) zine subculture of the 1990s, which included thousands of minority interests and voices.
Since the late 1970s with the availability of Xerox machines, zines have usually been hand-assembled, photocopied, and stapled publications. Tradtionally, zines are vehicles of self-expression rather than commercial ventures.
The zine collection at Michigan State University includes titles from throughout the history of zines, preserving and documenting minority voices that might otherwise be lost. A significant core of the collection is comprised of late 1970s-early 1980s punk fanzines from the United Kingdom. We also have strengths in science fiction fanzines and American zines from the 1990s and 2000s. The zines are held in both the Russel B. Nye Popular Culture Collection and the Radicalism Collection.
Find zines and fanzines on many topics in the MSU Libraries catalog by including "zines" and/or "fan magazines" (for fanzines) in your search.