U.S. Presidential Audio Recordings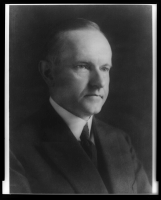 Calvin Coolidge
Thirtieth President
1923-1929
From a 1920 Fourth of July speech delivered before he was nominated to run for Vice President. Taken from one of the very first sound films ever made.
1 minute, 12 seconds - MP3 564K
Although the MSU Libraries strive to collect, acquire and develop accessible digital/electronic collections, unfortunately, not all are. The MSU Libraries are able to provide remediated, accessible versions of digital/electronic library documents to library users. Please be in touch to discuss your specific request by contacting us at libraryremediation@lib.msu.edu. For more information about the service, please visit the MSU Libraries Remediation page.